Bem-vindo à Dell Technologies Brasil
Na Dell Brasil existem infinitos desafios. Oportunidades globais. Uma equipe de colegas focada na cooperação. Uma cultura que incentiva a inovação, os valores e um local de trabalho inclusivo e diversificado.
Contamos com equipes de vendas, marketing, suprimentos, engenharia, finanças, jurídico, planejamento, operações, recursos humanos e muito mais.
O foco da Dell é criar um ambiente em que cada indivíduo possa ser e fazer o melhor para atender aos nossos clientes. A nossa filosofia em relação às pessoas é "construir relacionamentos duradouros com os membros de nossa equipe em todos os lugares".
Desenvolvimento profissional. Benefícios. Equilíbrio trabalho-vida pessoal. Na Dell, você tem tudo isso.
Na Dell, estamos empenhados em criar uma cultura onde a nossa equipe tenha sucesso e seja capaz de alcançar suas metas. Os fundamentos dessa são o reconhecimento dos colaboradores por suas contribuições ao redor do mundo. Oferecemos benefícios competitivos e alinhados ao mercado, porque sabemos o quanto é importante apoiar o bem-estar de nossos colaboradores e de suas famílias. Nós prosperamos criando um local de trabalho onde vocês se sintam desafiados e inspirados, para que cresçam no trabalho e na vida.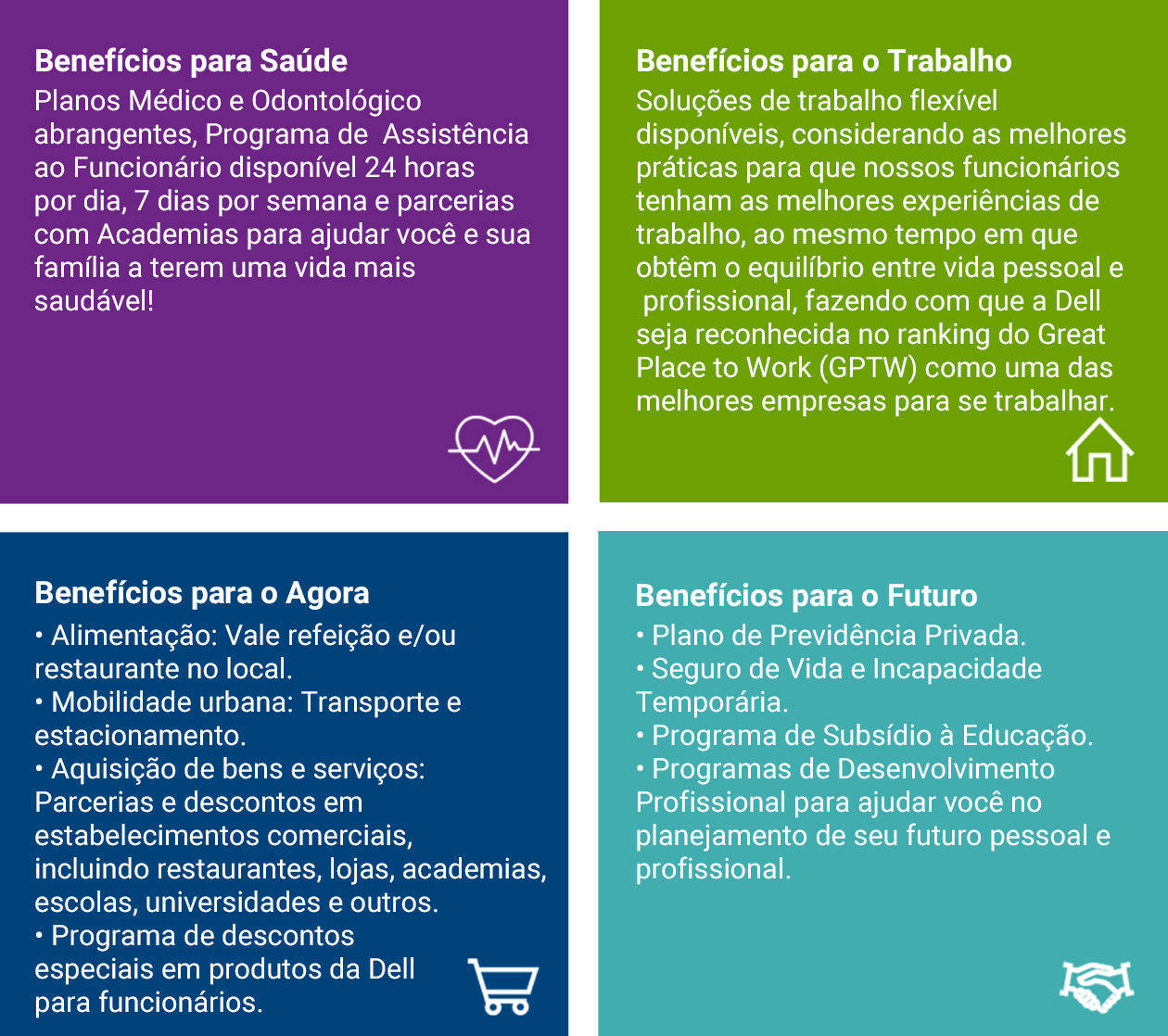 Outros benefícios e programas que a Dell Brasil também oferece são, por exemplo: Auxilio Creche, Massagem e Ginástica Laboral, Cartão de desconto (Good Card), Assistência e Seguro em viagens profissionais, programa de check-up, equipes de corrida e apoio a prática esportiva, campanhas de vacinação, programa de apoio às gestantes e à amamentação, entre outros.
Você pode trabalhar em um ambiente diversificado e inclusivo.
A diversidade, seja de pensamento, cultura, histórico, idade, orientação sexual, raça e idioma, é essencial para a inovação e fundamental para criar um ambiente de trabalho global, inclusivo, livre e acolhedor:
Temos um compromisso com o desenvolvimento de líderes extremamente éticos e inspiradores que têm o suporte de uma variedade de oportunidades de desenvolvimento e de networking, inclusive uma série de treinamento em liderança eficaz.
Investimos nos nossos funcionários. Todos os anos, milhares de colaboradores aproveitam oportunidades de crescimento assumindo novas funções, recebendo instruções de um mentor, estabelecendo uma rede de contatos, participando de um treinamento formal e obtendo novas certificações. A movimentação interna na Dell é altamente incentivada.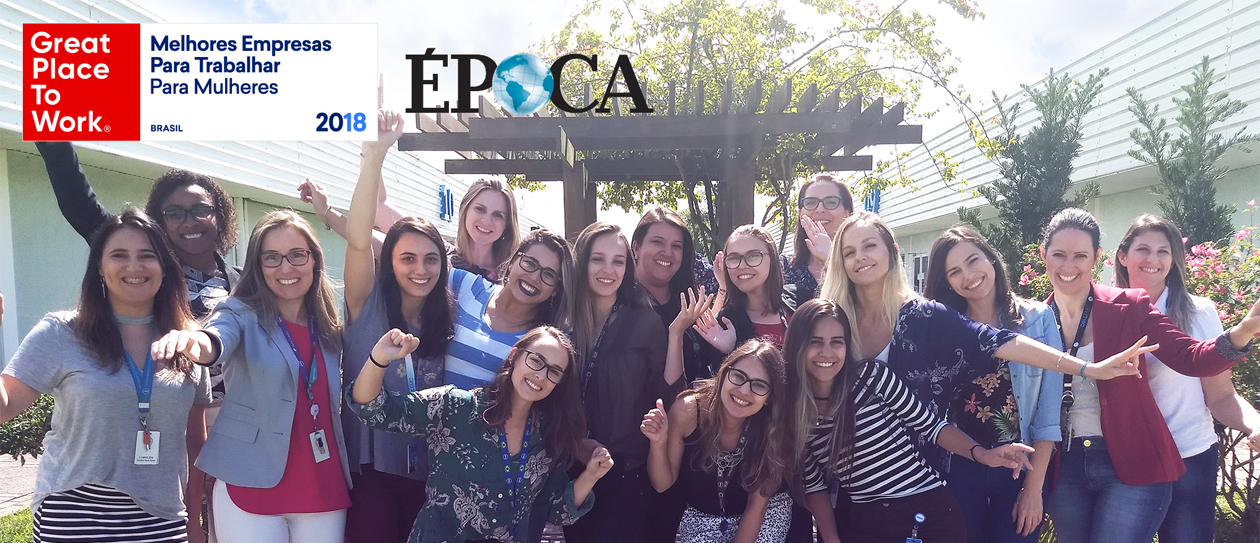 Reforçamos nosso compromisso de inclusão com os grupos de afinidade para funcionários:
Os grupos de afinidade de funcionários da Dell conectam os membros da equipe que compartilham históricos ou interesses comuns. Os funcionários são econrajados a participar desses grupos para fortalecer e permear as nossas práticas de diversidade globais em nossos negócios. A participação desses grupos auxilia no desenvolvimento pessoal e profissional dos participantes por meio de orientação, voluntariado e envolvimento da comunidade.
Grupos de Afinidade para Funcionários, conhecidos como ERG, criam uma plataforma de relacionamentos, desenvolvimento de liderança, oportunidades de voluntariado na comunidade e possibilidades de gerar resultados de negócios. A Dell Brasil tem ERGs de funcionário que têm como foco: mulheres (Women in Action), LGBT (Pride), pessoas com deficiência (Trueability), gerações (Genext), meio-ambiente (Planet) e da nossa força de trabalho remota (Conexus).
Para saber mais sobre nossa cultura e o dia-a-dia dos membros de nossa equipe, cheque nossa conta no Facebook @CarreirasnaDellBrasil
Be The First To See New Opportunities
Join Our Talent Network
Sign up, stay connected and get opportunities that match your skills sent right to your inbox.