Sales Internship Opportunities
Bratislava, Slovakia
10/21/2020
R072533
< Back to Results
Overview
We believe that progress lives at the intersection of technology and humanity, and that our role is to bring innovation to people everywhere to drive progress around the world. Every member of our team plays a critical role in bringing our purpose to life — through our work, passion and commitment to do the absolute best we can for our company, our customers and each other.
Success Profile
What makes a successful Intern?
Check out the top traits we're looking for and see if you have the right mix.
Adaptable
Collaborative
Curious
Inventive
Proactive
Productive
Responsibilities
Príležitosť pre VŠ študentov na oddelení predaja s nemeckým jazykom

Pridajte sa k nám ako stážista v našom tíme predajcov v Bratislavea robte najlepšiu prácu svojej kariéry so skutočným spoločenským dopadom. 
Čo vás čaká
Písomná komunikácia s nemecky hovoriacimi zákazníkmi s možnosťou telefonickej komunikácie.
Budete zodpovední za:
Administratívna podpora tímu predajcov

Príprava a spracovanie ponúk pre našich zákazníkov

Práca s rôznymi internými systémami
Vykročte za prácou svojich snov
S každým členom tímu Dell Technologies prichádza niečo jedinečné. Pre túto rolu hľadáme: 
Požiadavky
študent vysokej školy

nemecký a anglický jazyk – plynule slovom a písmom

schopnosť samostatne pracovať, ako aj schopnosť pracovať v tíme

pripravenosť učiť sa nové veci
Výhodou je
Výberový proces začína od: januára 2021 s možnosťou nástupu od februára 2021

Hodinová mzda: 5.50 EUR v hrubom
Toto jenášpríbeh;teraznámpovedztesvoj
Dell Technologiespomáhaorganizáciámajednotlivcomvybudovaťsvetejšídigitálnyzajtrajšok.Našaspoločnosťsaskladázviacako150 000ľudínaviacako180lokáciáchpo celomsvete. Smehrdínato,žesmerôznorodýmainkluzívnymtímomsnekončiacimzápalomprenašumisiu–poháňaťľudskýpokrok.
Najdôležitejšieprenásje, abystesacítilirešpektovaní,slobodníbyťsamisebouamalimožnosťrobiťnajlepšiuprácusvojhoživota– amaťpritomsvojvlastný.Ponúkamevynikajúcebenefity,bonusovéprogramy,flexibilnéusporiadaniepráce,rozmanitémožnostipracovnerásť,záujmovéskupinyaoveľaviac.
Začalismepočítačmi, alenezostalismelenprinich.Pomáhamezákazníkomposúvaťsa dobudúcnostis multi-cloudom, AI astrojovýmučenímprostredníctvomnajinovatívnejšíchtechnológiíaportfóliaslužiebpredátovúéru.Dell TechnologiesnaSlovenskujeglobálnebizniscentrum sviacako2500kolegami,ktoréjefinančnýmhubomcelosvetovéhoDell Technologies aposkytuješirokúpaletuslužiebvoblastiIT,financií,marketingu,predaja,technickejpodporyaglobálnychobchodnýchslužiebvcelosvetovommeradle.Pridajtesa knámastaňtesasúčasťoutechnologickéhozajtrajškauždnes.
Môžetesa onásdozvedieťviacvnašejposlednejSpráveodiverziteainklúziia vnašompláneakourobiťsvetlepšímmiestomdoroku2030tu.
budešsúčasťoukomunityviacako90stážistovvspoločnostiDell Technologies Bratislava,

prístupdovzdelávaciehoštúdiasviacako1 000 onlineškoleniami,

počítačDell,

možnosťposkončeníštúdiapokračovaťvprácinatrvalýpracovnýpomeralebov rozvojovýchprogramochpreabsolventov,

zamestnaneckéhobbyskupiny–spolupráca,komunitaaosobnýrozvoj(ERG).
Dell Technologies je verný princípu rovnosti pracovných príležitostí pre všetkých zamestnancov a poskytovaniu pracovného prostredia bez diskriminácieaobťažovania. Všetky rozhodnutia o zamestnanosti v Dell Technologies robíme na základe biznisových potrieb, pracovných požiadaviek a osobnej kvalifikácie, bez ohľadu na rasu, farbu, náboženstvo alebo vieru, štátny, sociálny alebo etnický pôvod, pohlavie (vrátane tehotenstva), vek, fyzické, mentálne alebo zmyslové znevýhodnenie, HIV status, sexuálnu orientáciu, rodovú identitu a/alebo jej vyjadrenie, rodinný, zväzkový alebo partnerský stav, minulú alebo terajšiu službu v ozbrojených silách, rodinnú zdravotnú anamnézu alebo genetickú informáciu, rodinný alebo rodičovský stav alebo akýkoľvek iný stav chránený legislatívou alebo nariadeniami v lokalite, kde pôsobíme. Dell Technologies nebude tolerovať diskrimináciu alebo obťažovanie na základne ktorejkoľvek z týchto charakteristík. Dell podporuje žiadateľov o zamestnanie v každom veku.PrečítajesinašuEmployment Opportunity Policytu.
Job Family: Sales Internships Internship-Opportunities
Job ID: R072533
Apply Now
Global Sales at Dell
We believe that technology is essential for driving human progress, and we're committed to providing that technology to people and organizations everywhere so they can transform the way they work and live. Join our sales team and be a part of our story.
Learn More About Global Sales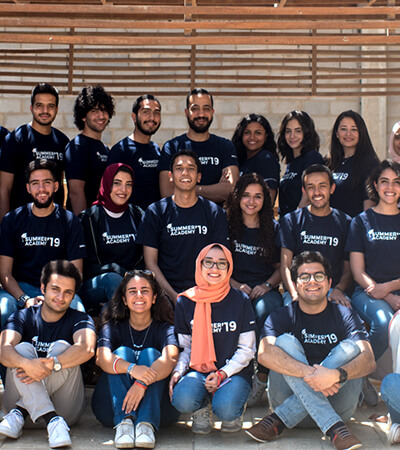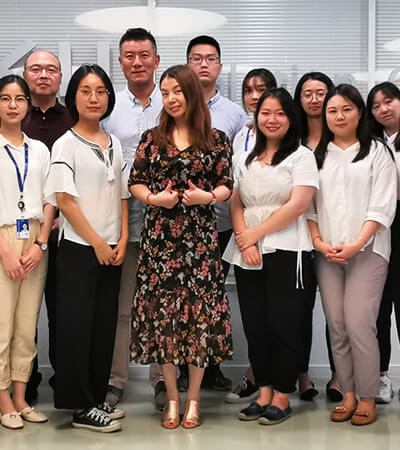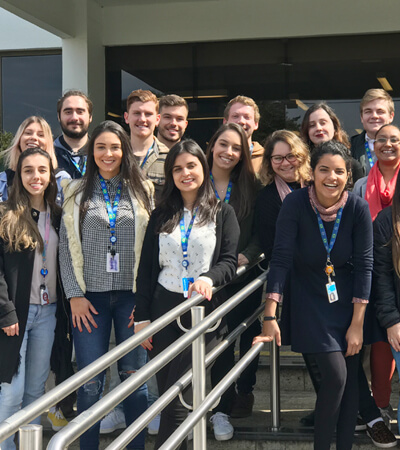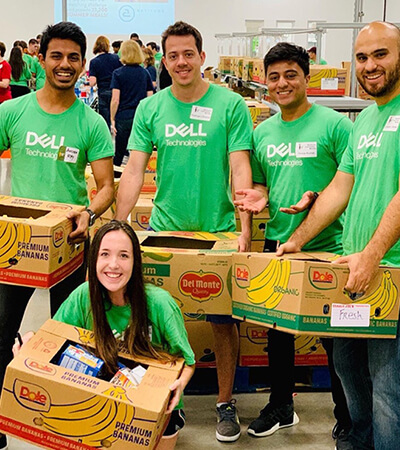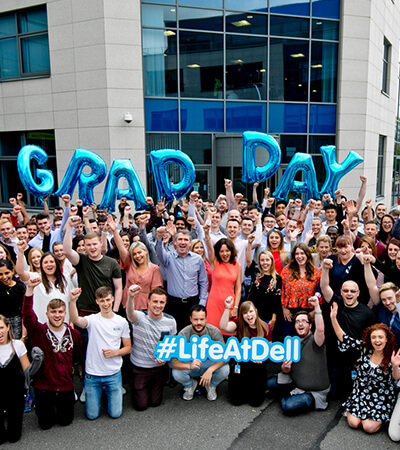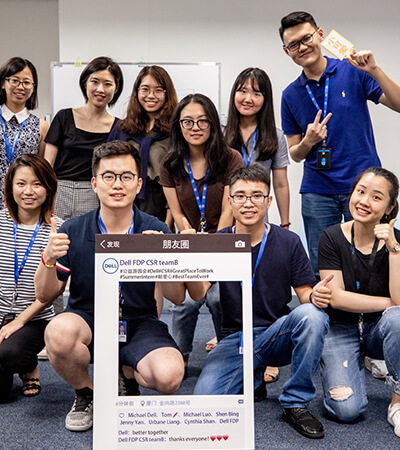 Culture
Our culture is defined by our values and made real every day by how we work and lead. We know our culture is the foundation for all we've achieved, and for all the success ahead of us. Don't take it just from us – see what our employees say in our annual "Tell Dell" results.
90%

My leader cares about my well-being both professionally and personally.

93%

I am proud that I never have to worry about Dell Technologies showing up in a headline damaging our ethical reputation.

90%

My job means more to me than just a paycheck and benefits

94%

I believe flexible work arrangements (e.g., working remote, mobile, telework, etc.) at Dell Technologies contribute positively to our performance as a company.