Current SecureWorks Jobs
SecureWorks is looking for Security Analysts, CTU Researchers, CISO team members, Penetration/GRC/ Forensics Consultants,Inside Sales, Demand Generation, Cybersecurity Services Account Executive, Outside Sales Security Specialist as well as Security Leaders.
Click Here to search our current security openings.
Our Values:
Integrity. We do the right thing.
Service Excellence. We serve with the highest standards.
Reliability. We do what we say we are going to do with a sense of urgency.
Open, Honest Communication. We respectfully express our concerns and ideas now.
Innovation. We value new ideas and breakthroughs.

Want to be part of a world-class IT security services organization that offers a start-up mentality? SecureWorks fosters career growth by leveraging, and building upon, the strengths of its employees. Training programs are in place to ensure employees continue to grow and thrive. As an integral part of SecureWorks's comprehensive IT services portfolio, SecureWorks offers security professionals the opportunity to work for one of the leading security organizations in the world.
Our company culture makes SecureWorks a special place to work. We practice open and honest communication, giving back to our communities, and a high-level of mutual respect and integrity. Team members are encouraged to balance their work and personal life, rewarded and recognized for their achievements, and offered flexible work arrangements.
SecureWorks offers attractive compensation packages, comprehensive healthcare and 401K benefits, performance-driven bonus plans and attractive differentials for our shift work. The combination of strong service excellence, award-winning security technology and certified security experts makes SecureWorks the premier provider of information security services for any organization. SecureWorks holds leading ratings from industry analysts and is a multi-year recipient of the SC Magazine Reader Trust Award.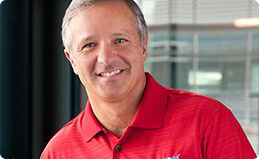 Mike Cote
President, Chief Executive Officer and Director
Purpose: "We tell corporations that it is not a matter of "if", it is a reality of "when" they will be hacked. So every company in the world needs the security services and consulting we provide. Most organizations are not resourced to effectively protect their IT environments and confidential data. That is where SecureWorks comes in. Because for a lot of our customers, we act as an extension of their IT team to ensure they have the best protection possible, the latest intelligence to combat threats and access to the most experienced security talent in the industry."
Opportunity: "I often say we are still in the early stages of cyber warfare. Sadly, I don't think we have seen the worse yet. Bad actors will continue to get smarter, stealthier and obtain better technology to meet their goals. It is our mission to constantly remain steps ahead of the adversaries. For the thousands of security professionals at SecureWorks – this is a way of life for us. This is our chosen profession. As long as there are threats out there, SecureWorks will be there to protect businesses around the world."
Growth: "It is a great time to be part of SecureWorks. We continue to grow rapidly, typically signing multiple new client contracts a day. We have always been a services business. Building enduring relationships with our customers and acting as their security partner is the reason our growth and customer retention has been so high."
Useful Links
Why SecureWorks?
We are relentlessly focused on delivering technology solutions that work harder for our customers, and gives access to technology to people and organizations around the world. Our purpose — "delivering technology solutions that enable people everywhere to grow and thrive," — drives who we are, and our commitment to all of our customers.
Our focus at SecureWorks
SecureWorks focuses exclusively on security services to protect thousands of customers around the world. SecureWorks listens to customers and delivers worldwide innovative technology and business solutions they trust and value. Recognized as an industry leader by top analysts, SecureWorks provides world-class IT security services to help organizations of all sizes protect their IT assets, comply with regulations and reduce security costs.