Discover Your Story at Dell Technologies EMEA
Dell Technologies EMEA (Europe, Middle East, and Africa) offers apprenticeship, internship, and graduate opportunities in Sales, Marketing, Human Resources, Finance, Software Engineering, and Technical Support. To ensure your success with us we provide mentorship, coaching, continuous training, and development programs.
Graduate Development Programs
Our 10 graduate development programs are open to individuals who hold a bachelor's and/or master's degree with a maximum of 12 months of work experience.
Visit the EMEA Students YouTube Channel
Learn more about the development programs designed to shape your career:
Learn More About our Development Programs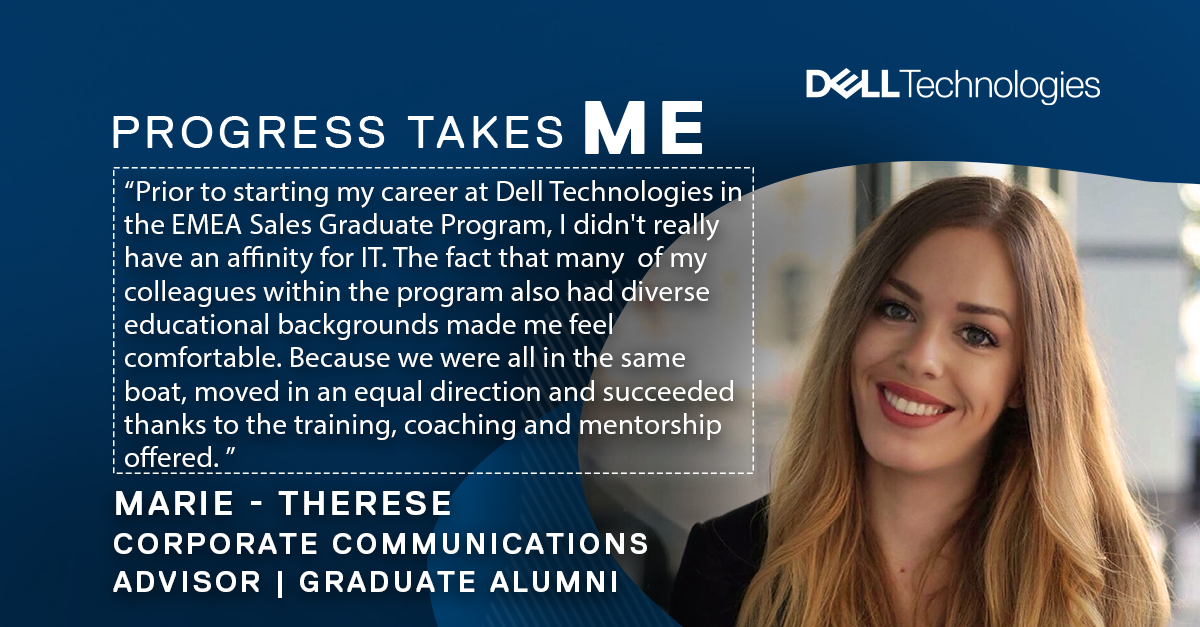 Why Dell Technologies?
Today, every organization needs to be a digital organization; powered by data, running in a multi-cloud world, and ready to take on anything. Learn more about our we have helped a few of our customers:
Joining us means, that you will help shape the future of innovation, and contribute to developing technologies and processes that drive human progress.
Discover how you can launch, develop and grow your career. Our students and graduates also enjoy our open company culture, the entrepreneurial spirit – being able to turn their ideas into a reality, being challenged, our Employee Resource Groups (ERGs) activities, and our social impact goals.
| | | |
| --- | --- | --- |
| | Our mission is to enable the future generation of professionals to create strong networks, achieve critical experiences, and develop core skills that position them for career success at Dell Technologies: | |
| | | |
Global reach
Career development
Supportive work culture
As one of the world's largest technology companies,
we operate in 180 countries globally serving 98%
of Fortune 500 companies
Resources and opportunities available to get you started
with your career journey, including a vast
online learning community
You never have to go it alone! Our interns work in teams, and Employee Resource Groups bring together team members with common interests or backgrounds.
Impactful projects
Work-Life Balance
Mentoring
Your inputs are valuable to us! work on meaningful projects
that will make an impact on driving human progress
We provide the resources and flexibility to help
you balance your work and life
Connect with inspiring leaders ready to
help you map your career development
Tips for Success
To ensure your success check out Tsnatee's graduate success tips.
Be The First To See New Opportunities
Join Our Talent Network
Sign up, stay connected and get opportunities that match your skills sent right to your inbox.