델 테크놀로지스 코리아 회사소개
Dell Technologies의 이야기는 전 세계 모든 사람들에게 기술 활용의 기회를 더 많이 제공하자는 것에서 시작됩니다.
Dell Technologies는 기술을 통해 인류의 진보와 발전을 주도하고자 하는 열망을 동력으로 삼아,
전 세계의 디지털 환경을 변화시키는데 중추적인 역할을 하고 있습니다.

인류의 진보와 발전은 우리 모두가 함께 나아가야 하는 여정입니다.
Dell Technologies는 여러분과 함께 이 여정을 시작하게 된 것을 영광으로 생각합니다.
우리들의 이야기 #lifeatdell

직원들의 Wellness 를 위한 복리후생 제도

We're a Unique and Diverse Community
Dell's team members come from all backgrounds, religions, nationalities, gender orientations and races. Dell's global business footprint includes operations in 180 countries, manufacturing in 25 locations, more than 40 distribution and configuration centers and more than 1,800 service centers worldwide.
Our Employee Resource Groups connect team members who share common backgrounds or interests. At Dell Technologies Korea, we embrace diversity and inclusion through three Employee Resource Groups: Planet, Women in Action and GenNext.

Planet
Promote a culture of corporate sustainability

Women in Action
Empower and enable professional women

GenNext
Build networks for early career professionals
Starting this year, Dell Technologies is outlining a bold new vision for driving human progress through 2030 and beyond via our goals.
By 2030, 50% of our global workforce and 40% of our global people leaders will be women.
델 테크놀로지스 코리아의 채용팀을 만나보세요!
Talent Acquisition Team의 가장 중요한 역할은 Dell Technologies Korea One Team의 일원이 될 인재영입입니다.
저희 채용팀은 Dell Technologies라는 여정에 함께할 동료를 영입하는 과정에 길잡이가 되어드리겠습니다.
델 테크놀로지스 코리아의 채용 절차
Dell Technologies는 후보자의 역량 및 업무 수행 적합성을 다각도로 검증하고 있습니다.
모든 지원자가 공정함을 느낄 수 있도록 직무와 경험 중심의 평가를 바탕으로 공정한 채용 절차를 진행합니다.
일반적인 채용 절차는 서류전형에서 면접전형의 순서로 이루어지며, 지원하신 직무에 따라 전형 단계 및 절차가 달라질 수 있습니다.
Dell's Commitment to Candidates
당사에 지원하는 후보자 분들께 지원 및 채용 과정 전반에 걸쳐 원활한 안내와 지원을 약속 드립니다.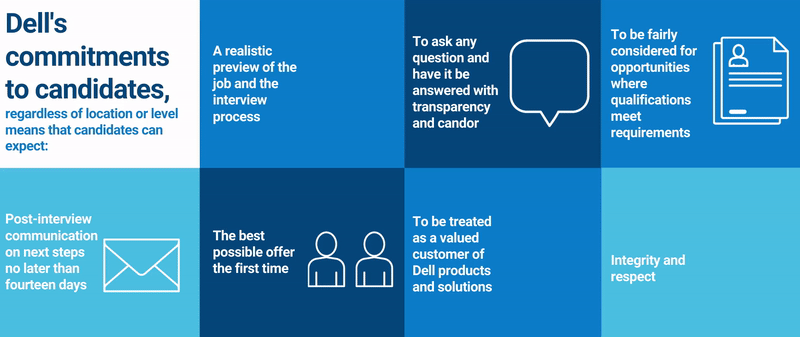 최상의 업무 효율을 돕는 델 테크놀로지스 코리아의 업무공간

Top Employer Awards
델 테크놀로지스 코리아의 채용 공고
직무별 채용 공고 및 안내를 확인 후 직접 지원 또는 델 테크놀로지스 직원 추천을 통해 많은 지원 바랍니다.
장애/보훈 대상자는 관계 법령에 의거하여 우대합니다.
Be The First To See New Opportunities
Join Our Talent Network
Sign up, stay connected and get opportunities that match your skills sent right to your inbox.